Metal Grommets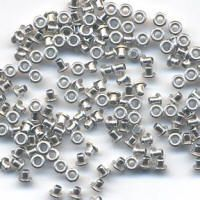 Metal grommets are commonly used as hole reinforcements in fabric, such as shower curtain holes, shoelace holes, drapery panel holes, and tarps. Metal grommets are also used for design enhancements in jeans, belts, jackets, etc.
Grommets are easy to install by using a grommet-setting tool, the tool is essentially a rod with a curved tip and a hammer. Once installed, a grommet prevents the hole from tearing or ripping when fabric such as a shoelace is run through the hole or a curtain rod used for hanging a drapery panel.
Types of Grommets
There are different types of grommets for different applications. Popular kinds of grommets include plain grommets, decorative eyelet grommets, and drapery grommets.
Plain grommets can be made of several different metals and coats, including brass, antique brass, nickel-plated, and black oxy. This type of grommet is well-suited to standard applications, such as tents, tarps, flags, banners, and curtains, and can fasten to a variety of fabrics, like cotton, canvas, nylon, etc. PacCana is also a plastic grommets supplier.
Decorative eyelets are smaller grommets, appropriate for adding detail to clothing, such as jeans.
Drapery grommets can be used instead of plain grommets for hanging fabric drapery panels and shower curtains and can come in metal or plastic. Some styles simply snap-on, whereas others may require traditional installation.
At PacCana, we sell a variety of metal grommets in various sizes, as well as grommet setting tools. PacCana offers grommets in bulk orders for retail suppliers and home sewers. All our sewing supplies and materials are of the highest quality. Count on PacCana for reasonable prices and quick shipping throughout Canada and the USA.
Please click here to view our selection of metal and plastic grommets and grommet installation tools.